KÖSTER MS Flex Foil: multi-purpose repair material
Developed by KÖSTER, KÖSTER MS Flex Foil is based on state-of-the-art MS polymer technology. It combines unique characteristics resulting in a multi-purpose repair material that can be applied in several different areas.


Fields of Application
Repair material for damaged waterproofing, for example: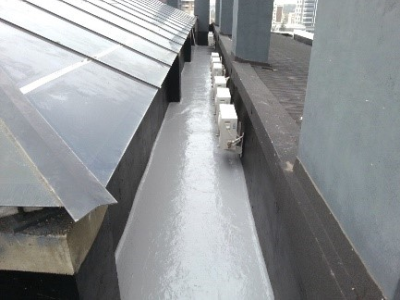 Balconies and terraces
Rooftops
Wet rooms
Tanks and swimming pools

Waterproofing connections with various materials such as:
Mineral substrates
Metal
Plastic material
Wood

With its excellent adhesion to a variety of substrates and surfaces including concrete, screed, bitumen, metal, wood, PVC and Polycarbonates, the product is an excellent repair material. Additionally, due to its UV stability, KÖSTER MS Flex Foil is suitable for indoor and outdoor use.

Application

The material consists of one component only and is therefore ready to use directly from the bucket. Once applied, the moisture curing material is set within 30 minutes. Unlike other off-the-shelf waterproofing systems, KÖSTER MS Flex Foil does not require long waiting periods before subsequent work steps can ensue. The product is liquid-applied and therefore allows a very easy and smooth application even on complex architectural details.


Features

KÖSTER MS Flex Foil is crack bridging and has an elasticity of over 500%. The fast curing coating is solvent-free and can be applied to dry and slightly moist substrates. It is resistant to rain after approx. 30 min. The material is also resistant to aging, hydrolysis, UV-rays, salts, frost, and occasional foot traffic. KÖSTER MS Flex Foil is CE certified according to EN 1504-2 as a surface protection product throughout Europe.

Conclusion: both the variety of possible applications of KÖSTER MS Flex Foil and the quality of results are too convincing not to carry a bucket of the product around at all times.